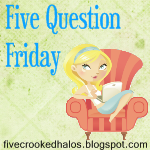 1. How many pets do you have?
Two cats, a brother and sister of our old cat who stayed behind to hunt mice at our old residence. We had a dog not so long ago who was not so nice and had to be put down. Maybe someday we'll have another... If we do, I want to get this kind. Crazy, I know, but they're coats are virtually maintenance free, and they're supposed to be fairly low-maintenance in general. Plus, how fun would it be to walk this dog around town?
2. If you could switch places with anyone in the world for one day, who would it be?
I'd say some rich lady on vacation in Greece, but I'd be afraid to let her have my life for the day. I don't think my kids would appreciate a stranger in the house! I think I'd like to switch places with Big Sister- classic Freaky Friday, right? I think it'd be very interesting to see her around her teachers and friends for a day.
3. What is your favorite money saving tip?
Stay home more. If you're not out and about, it's way harder to spend money!
4. What do you want your kids to be when they grow up?
Mostly, I just pray that each of them follows the vocations God intends. I would LOVE to see Little Mister serving God as a priest someday, or the girls as nuns. If they are called to married life, I want my son to be a strong leader of his family and my daughters to be the hearts of their homes. What I THINK they'll be is a different question entirely, but I'd bet money that Big Sister will work with animals in some way! The other two are too young to speculate!
5. What is your favorite quote?
It requires less character to discover the faults of others than it does to tolerate them.