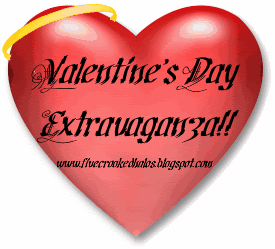 Thanks to Mamma M for her 5 Question Fridays!

Questions for Friday, 2/12/10:
1. What is the one thing your love does for you that you can't live without?


Hugs me in the kitchen while I'm making dinner. It drives me crazy sometimes, but I think I'd miss that more than anything if I lost him.


2. When did you know your love was "the one"?


This was a slow evolution for me. There wasn't a single moment when I knew this Computer Nerd was the one I was destined to be with. There were lots of things that I loved about him, and a few deal breaker issues that I didn't push. I didn't want to change him; I was done with that! I just prayed that he would grow into a man who would be the head of our home if he was the one I was called to marry. And... as we got to know each other better, I started to find that the deal breakers were melting away, and I suppose that when he told me he was going to be baptized (with no probing from me), that was when I knew that he was the man God meant to be my husband.
3. Does your love have a special ringtone on your cell?


Yes! It used to be the one of the songs from our wedding "I Will Be Here" by Steven Curtis Chapman. With my new phone, he rings "When I See You Smile."
4. What are you attracted to most in your special someone?

Now? The fervor with which he attacks his career and the seriousness that he takes with his role as provider, husband, and father. He sacrifices so much for our family, and it really does make him appear strong and safe.

5. Did you know when/where he/she was going to pop the big question?

Not the first time he asked. It wasn't the right time or place then. But the second time he asked, I knew it was coming. The boy can't hide a surprise for anything!