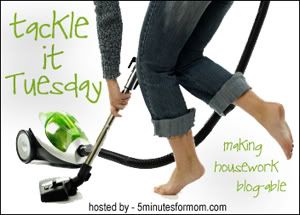 Our future ballet bedroom- back when it was just a skeleton.  
Since then, our sheetrock was hung, mudded, taped, and sanded.  
THEN I took over.  
Step 1: clean dust from every nook and cranny.  
Step 2: wipe down the ceiling and walls.  
Step 3: Prime closet, ceiling, and walls.
Step 4: Paint ceiling.  
Step 5: Paint lavender base coat on walls.  
And here's where we are on this Tackle It Tuesday!  Still a work in progress.  
Next step: Paint brushed pearl finish over base coat.  In my dreams, this room will feel like a Lisa Jane print when we're all finished... In my dreams...