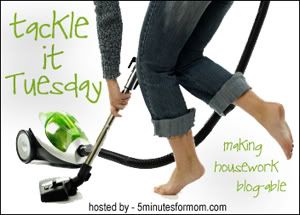 Last week, I moved all the kids toys into their room. No more toys with small pieces in the common areas of our home! However, I found that the mess that was already in the kids' room became a war zone with the added toys.
Before: My son's "room" was separated by the curtain from his sisters.  However, he's been freaking out lately about the monster that is hiding behind his wall.  He falls asleep by the door most nights.  
Before: And this is the other half of the insanity that comes with 3 kids sharing a room and trying to fit Mommy's clothes into the closet too.  Ugh.
And the tackling began...
After: The clothes are tamed, but the work books and coloring books are already about to get strung out again- oh, the life of a SAHM!
After: I decided to rearrange the room a bit in an effort to help my son stay in his bed at night. Hopefully being closer to the door will help him out.
After: And I created a play/toy area in the process!  I'm not sure how long it will look like this, but at least it will be clear where the toys belong!  Next on my to-do list will be to create or purchase a toy organization system of some kind.  Baby steps...