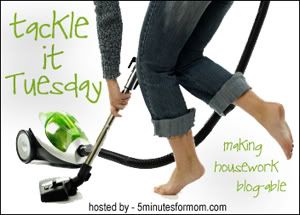 Those who've visited me can attest to the fact that I have 5 people living in a 900 square foot house right now. I love babies, but the need to have toys in the general area of the house kind of drives me crazy! My oldest was 5 when she became a big sister, and I had just succeeded in relocating the last of her toys behind her bedroom door. My house no longer looked like a day care play room! However, my honeymoon conception soon brought about the need for high chairs, toy boxes, exer-saucers and swings in the main area of our house. I was too blissfully engulfed in my newborn to care at the time that my clean, entertaining-ready house had become consumed-- again. Now, after 3 years of baby gear, I find myself wanting to scream when I look at my family room sometimes. It can be clean one minute and in less than an hour look like I haven't picked up in a week or two! Seriously.

My first Tackle-It Tuesday mission: My Family Room.
Before: This is what my family room looks like on laundry days (and for a day or two afterward). There are baskets and piles of clean clothes all over because I do laundry during nap time and can't sneak into the kids' room to put theirs and mine away (yep- I share a closet with the kids). Inevitably, items get scattered around by a 3 year old looking for a super hero cape or wanting to build a tent.
After- I didn't shove everything behind me- Housewife's honor!