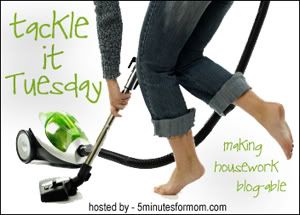 Anyone else have a place where everything gets dropped?  It seems like my countertop is cluttered more often than not.  It's not usually dirty, just piled with papers and the like, so it's the last priority.  Today I sucked it up and sorted through the junk!
Before: I think this pretty much speaks for itself!  
After: Yay!  A place to work on homework out of reach of toddler hands, and a whole pile of stuff returned to my mom's!
Click here to see other Tackle It Tuesday bloggers or to participate!